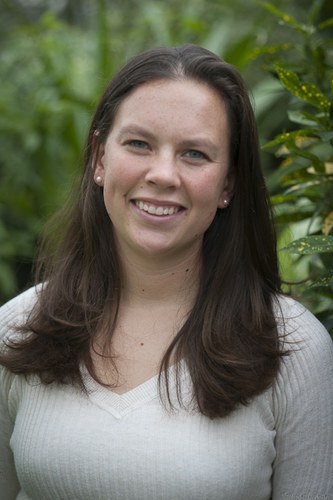 Molly
Hanlon
Postdoctoral Scholar, Project Manager, DEEPER
315 Tyson Building
University Park
,
PA
16801
Education
Ph.D Intercollege Graduate Program in Plant Biology, Huck Institutes of Life Sciences, Penn State University. 2017
Dissertation: New perspectives on conventional ideas about root system architecture and morphology
--
B.S. Biochemistry, minor in Creative Writing, Allegheny College, Meadville PA. 2009.
Thesis: The role of auxin in the mycorrhizal symbiosis with tomato
Current Projects
I serve as the project manager for our ARPA-E funded ROOTS project. Our project, DEEPER: An integrated phenotyping platform for deeper roots, aims to identify traits resulting in deeper rooting crops. I'm working to develop above-ground sensor technologies using x-ray fluorescence to determine root depth.
Previous Work
For my PhD, I worked on bridging the gap between two subdivisions of plant biology: research done on crop species and research done on Arabidopsis.  I focus on traits that other students and researchers in the Root Biology group have found to be important for nutrient acquisition and subsequent successful plant growth, including root angle and root hair growth properties.  
Using precise methods of image acquisition and analysis, I worked to discover the underlying mechanisms behind the maintenance of plant root growth at a specified angle, specifically the plagiogravitropic behavior of lateral roots. I also worked to understand the control of root hair length and density in rice using genome wide association studies (GWAS). Lastly, I worked on the complex dynamics of phosphorus movement in the classic gel-based Arabidopsis growth system.  Differing greatly in chemical and physical properties from soil, the gel system may not be giving us accurate insight into plant behavior.  Using the an adapted method of the solid phase buffered phosphorus protocol, we have altered the delivery mechanisms of phosphorus to the plant, resulting in vastly different phenotypic responses.
Publications
Hanlon MT, Ray S, Saengwilai P, Luthe D, Lynch JP, Brown KM (2018) Buffered delivery of phosphate to Arabidopsis alters responses to low phosphate. Journal of Experimental Botany, doi: 10.1093/jxb/erx454 https://doi.org/10.1093/jxb/erx45
Burton AL, Johnson J, Foerster J, Hanlon MT, Kaeppler SM, Lynch JP, Brown KM (2014) QTL mapping and phenotypic variation of root anatomical traits in maize (Zea mays L.). Theor Appl Genet. doi: 10.1007/s00122-014-2414-8
Burton AL, Johnson JM, Foerster JM, Hirsch CN, Buell CR, Hanlon MT, Kaeppler SM, Brown KM, Lynch JP (2014) QTL mapping and phenotypic variation for root architectural traits in maize (Zea mays L.). Theor Appl Genet. doi: 10.1007/s00122-014-2353-4
Hanlon, M. T. and Coenen, C. (2011), Genetic evidence for auxin involvement in arbuscular mycorrhiza initiation. New Phytologist, 189: 701–709. 
Onyeiwu, S., Pallant, E., and Hanlon, M. (2011). Sustainable and Unsustainable Agriculture in Ghana and Nigeria: 1960 – 2009. In Ecosystems and Sustainable Development (Y. Villacampa and C.A. Brebbia Eds.) WIT Press: 211 – 222.
Awards
National Science Foundation Graduate Research Fellowship (NSF GRF) - 2011-2014
NSF Graduate Opportunities Worldwide (GROW) Fellowship - 2014-2015
Company of Biologists Travelling Fellowship - 2012
University Graduate Fellowship - 2010-2011
NASA Space Grant (PA Space Grant Consortium) - 2012-2014
ARCS Scholarship - 2010-2013
Harold M. State Research Fellowship - 2008
Outreach, Mentoring, and Other Activities
In addition to working with highly skilled undergraduate students, I take part in the 
Planting Science
 program serving as a Master of Plant Science and acting as a liaison and mentor to middle and high school science groups nationwide.  Planting Science works to build the scientific community by linking young students to scientists who guide the class through the process of project-based inquiry.