Students interested in the production of hemp have the opportunity to learn from our Introductory Cannabis Science class as well as several supporting classes in the Plant Sciences.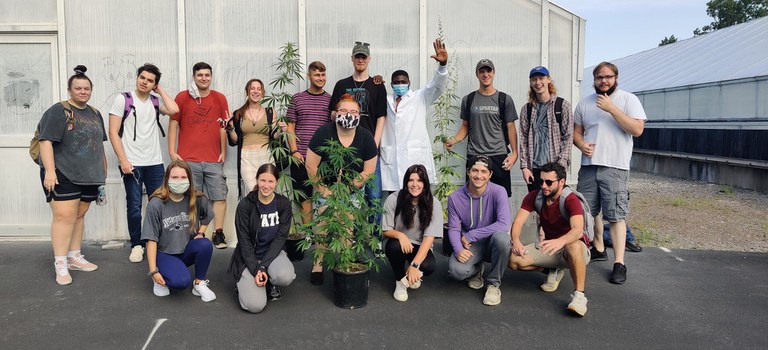 PLANT 240(GN): Introduction to Cannabis Science
Plant 240GN - First offered as an experimental class (PLANT 297) in Fall 2021, Introduction to Cannabis Science will be will be listed as PLANT 240GN starting in Spring 2022. The class will be offered to resident students each semester. Plans for an online class through Penn State's World Campus are in development.
Course overview
This course provides a comprehensive overview for outdoor, indoor, and hydroponic hemp production for rapid integration into the hemp industry. It fosters students' economic empowerment by stressing the needed quick-start horticultural skills for production, expansion, and business opportunities from seed to harvest and vertical integration. The course starts with understanding federal and state laws, drug enforcement agency (DEA) rules, and best hemp production practices needed for launching hemp production. Students will learn from hands-on demonstrations and thought-provoking concepts that cut across basic biology, biochemistry, and agronomy and stressing on business opportunities in the hemp industry.
Prerequisites
HORT 101 or PLANT 200
Supporting Classes
HORT 202: Plant Propagation
Plant propagation is the art and science of producing new plants. The process can be as simple as collecting seed and planting it, or as complicated as aseptic tissue culture of rescued embryo's.
HORT 402W: Plant Nutrition
The course considers the mineral nutrition of higher plants from physiological, ecological, and agricultural perspectives. 
HORT 451: Hydroponics and Aquaponics
Basic concepts in plant and fish biology; nutrient and water use, cycling, and management; pest and pathogen management; and environmental factors as they relate to design and operation of hydroponic and aquaponic systems.