Crop and Soil Update 2005

Message from David Sylvia, Professor and Head
Folks keep asking me why I moved from sunny Florida to central Pennsylvania, and my genuine response is that I enjoy the four seasons and a gorgeous spring day like the day I wrote this seems to settle the matter. As I approach three years on the job I would like to reflect on what we have accomplished and look forward to what we want to achieve over the next three years.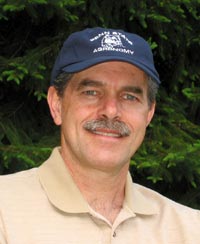 In the research arena we have organized around the following thrust areas to better highlight departmental strengths: Biogeochemical Processes, Crop Ecology and Management, Land Use, Plant Breeding and Molecular Biology, Soil and Water Quality, and Turfgrass Science. We have added a soil chemist and a biogeochemist to support the Biogeochemistry Thrust, and a cropping systems faculty hire is pending to support our Crop Ecology and Management Thrust. In the teaching arena we have nearly doubled the number of Ph.D. students in departmental programs. We have also enhanced efforts to recruit undergraduate students by developing new fliers, enhancing web pages, advertising in university and industry publications, and offering a first-year seminar that focuses on environmental issues. In the extension arena we have improved training of extension educators and grown our on-farm program to provide relevant research to Pennsylvania farmers.
During our recent strategic planning deliberations we concluded that all programs in the Department share a common mission of education, discovery, and communication to improve the understanding and management of plant and soil systems. The scope of our work includes both agricultural and non-agricultural landscapes from rural to urban areas. Our vision is to lead in the development, application, and communication of science-based knowledge that will promote the stewardship of diverse and sustainable landscapes, which are the foundation for food and fiber production, environmental quality, and community well-being. I invite you to review the complete planning document online at http://cropsoil.psu.edu/pdf/CSS_Strategic_Plan.pdf.
Over the next three years we will seek to increase enrollment in our academic programs and promote the quality of students and their employment opportunities. We will strive to increase competitive grant awards, effectively disseminate our results, and maintain regionally relevant research. We will continue to monitor and respond to feedback from stakeholders and enhance cost recovery from appropriate extension programs. Certainly the days ahead will be challenging, but we are committed to working together with our alumni and friends to enhance the impact of the Crop and Soil Sciences Department at Penn State.
HIGHLIGHTS
Research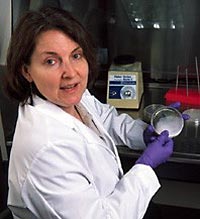 Soils and sediments harbor a vast repository of undiscovered microorganisms. To date, microbiologists have succeeded in studying only about 1% of the microbes extant in the environment. Dr. Mary Ann Bruns describes much of the research conducted in her laboratory as "bioprospecting," with the goal of coaxing novel bacteria to carry out desirable biochemical processes. One important research area is renewable energy production by microorganisms. Fermentative bacteria feeding on animal, municipal, and industrial wastewaters can produce "biohydrogen." Since most H2 for fuel cells today is produced from natural gas, biological H2 production from wastes offers an attractive alternative to fossil fuel consumption. In collaboration with faculty in Penn State's Hydrogen Energy Center, Bruns and her students have identified new strains of clostridia as the dominant H2-producers in bioreactors inoculated with campus topsoil. Bruns' group is also working to harness biochemical processes carried out by bacteria capable of anaerobic respiration. After stimulating the growth of iron-respiring bacteria in swine wastewater, Bruns' student, Hugo Castillo-Gonzalez, showed that these bacteria oxidized a significant portion of odor-causing compounds to odorless carbon dioxide. Although relatively low numbers of iron-respiring bacteria are commonly found in wastewaters, their activity can be increased by adding ferric iron and maintaining a neutral pH. Some bacteria can even use electrodes to accept electrons during anaerobic respiration, thereby forming the basis for electricity generation by microbial fuel cells.
Although almost any backyard soil can yield a wealth of microbial novelty, little is known about how soil biotic communities respond to our attempts at management. Bruns' student, Loren Byrne, has a field project underway at the Rock Springs Agronomy Farm to investigate how mown and unmown vegetation and different mulches influence above- and below-ground communities of arthropods, earthworms, fungi and bacteria. Within two years, the different management treatments created habitats that supported different soil food webs, which in turn are influencing decomposition and nutrient cycling in these soils. On the other hand, degraded soils, such as surface mine spoils found across large areas of central PA, provide very poor habitats for conventional soil organisms. An additional research effort investigates ways to promote establishment of "pioneer soil communities" in barren areas to accelerate revegetation and soil aggregation and to reduce erosion and acid drainage. Past and current research funding has come from NSF, USDA-NRI, USDOE, PA Department of Agriculture, The Penn State College of Agricultural Sciences, The Huck Institutes of the Life Sciences, and The Penn State Institutes of the Environment. For more information, contact Dr. Mary Ann Bruns at 814-863-0770 or email mvb10@psu.edu.
Teaching
Dr. Marvin Hall recently completed a 6-month sabbatical leave where he chose to pursue teaching excellence for Agro 423, Forage Crop Management. He concluded that electronic access to vast amounts of information, frequently results in instructors packing more and more content into already full courses. This often occurs at the expense of providing students with opportunities for problem solving or real world application of the knowledge. Marvin states that using computer-based, multimedia teaching modules is an effective method of presenting educational material. As an outcome of his sabbatical, faculty members from five Committee of Institutional Cooperation [CIC] Universities and Iowa State are creating interactive, computer-based teaching modules for introductory forage courses at universities across the country. The concept is much like a course text book but with interactive teaching modules instead of non-interactive text. A prototype of an interactive module addressing silage fermentation can be seen at http://www.forages.psu.edu/topics/hay_silage/preservation/silage_preserv/index.html. The educators have submitted proposals to initially produce and test 12 modules dealing with basic aspects of forage crop production and utilization. If you would like to learn more about this initiative contact Dr. Marvin Hall at 814-863-1019 or email mhh2@psu.edu.
Extension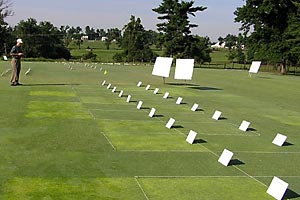 The most recent Pennsylvania turfgrass survey indicates that the turfgrass industry is one of the largest agricultural enterprises in the state, with an annual maintenance expenditure of 1.5 billion dollars. Dr. Peter Landschoot, professor of turfgrass science, works with other turfgrass faculty to meet the educational needs of this rapidly growing and changing industry by coordinating conferences, disseminating information on turfgrass management, and making on-site visits. Another way that Pete serves the industry is by overseeing a large turfgrass species/cultivar evaluation program for Pennsylvania. Each year, hundreds of cultivars and experimental selections are submitted for evaluation through the National Turfgrass Evaluation Program (NTEP), an organization sponsored by the USDA and private seed companies. Evaluations of cultivars of cool-season turfgrass species (Kentucky bluegrass, fine fescues, perennial ryegrass, tall fescue, and bentgrasses) are conducted for five years and include ratings of turfgrass quality, density, color, stress tolerance, disease resistance, and other performance indicators. Data from Pete's program, and from programs in 30 other states, are compiled at the end of each season and submitted to NTEP for analysis. Mr. Kevin Morris, Executive Director of NTEP, analyzes the data and posts the results on the NTEP Website, http://www.ntep.org/. Pete also disseminates results via his Web site (http://turf.psu.edu/outreach), publications, extension meetings, workshops, and at field demonstrations. He frequently provides tours of the cultivar trials for seed industry reps, plant breeders, scientists from foreign countries, and extension staff. Seed companies use this information to decide whether experimental selections will be commercialized. Practitioners, county extension agents, industry reps, and other interested parties use information generated by NTEP to decide which cultivars to plant for new turf establishments. The NTEP program represents the largest nonbiased source of information on turfgrass performance in the U.S. and is widely used by turfgrass practitioners.
Student Profiles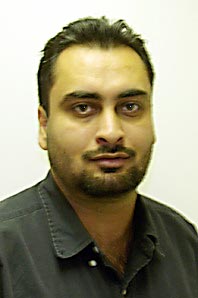 Rajandeep Singh Sekhon, an agronomy graduate student, comes from a family with a rural agricultural background in northern India. In India, farming is highly unpredictable and a not-so-lucrative business. Over the years, Rajandeep closely observed the farming hardships faced by his family and was motivated to study Agricultural Sciences for his B.S. degree and Plant Breeding and Genetics for his M.S. degree. Rajandeep wanted to study genetic and molecular mechanisms of crop plants in an institute which offered a combination of basic and applied research for his graduate education. For him, the obvious choice was Crop and Soil Sciences at Penn State. Rajandeep strongly believes in the need for vigorous research efforts towards achieving sustainable and eco-friendly agriculture which, unfortunately, has taken a back seat in recent years as more funds and efforts have been diverted to basic research on model organisms. Crop and Soil Sciences at Penn State, however, is an exception as it is working towards generating knowledge and technology aimed to achieve profitability, sustainability, and environmental friendliness of agriculture. Besides having faculty from diverse disciplines of agricultural research, the Department also participates in many interdepartmental graduate programs. Rajandeep was impressed by the multidisciplinary learning environment provided by the graduate programs offered by the Department. The ethnic diversity of faculty and students provide him an opportunity to learn about many different cultures. He states that the Department's friendliness has made his stay at Penn State memorable.
ACTIVITIES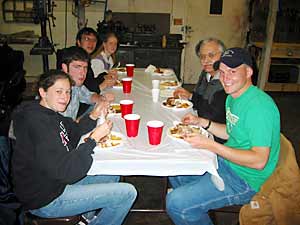 The Agronomy Club visited the Ohio Farm Science Review near Columbus, Ohio, last fall and saw the latest technologies employed in field scale demonstrations. The club also attended the Student-Industry Workshop, sponsored by the PA Agronomic Education Society (PAES). During the session, four PAES members came to campus to explain what they do in their respective jobs and illustrated what opportunities existed for students upon graduation. Discussions were held between the Department of Crop and Soil Sciences, the Agronomy Affiliate Program Group (APG), and student members from the Agronomy Club. It is the hope of the APG and the Department that the Agronomy Club can become an integral part of the discussions and planning processes for increasing APG membership while assisting with recruiting potential students into the academic programs offered by the Department. A big THANKS goes out to Atila Deak, graduate student in Agronomy, who endured the rain and snow showers to deliver yet another incredible BBQ in April that was enjoyed by all.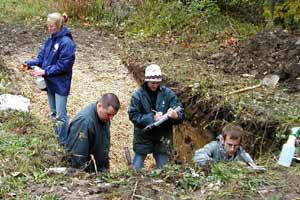 The PSU Soil Judging Team participated in the NE Regional Collegiate Soil Judging Contest this past fall, hosted by Wilmington College, Ohio. The contest was broken into two sections, individual and team. The team consisted of the following: Rebecca Sanke, Zach Smith, John Yerger, and Diana Sturrock. Ten teams participated and PSU placed 6th. The students gained valuable hands-on experience and had the opportunity to study soils affected by glacial processes. They enjoyed interactions with the NRCS professionals, other universities, and meeting other students. This fall coach Mary Kay Krasinski and her team will be traveling to the University of New Hampshire for the next competition.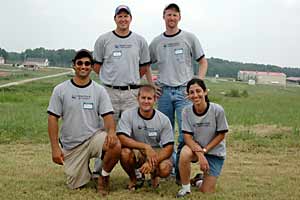 The PSU Weed Science Team is preparing for the upcoming NE Weed Science Society -- Collegiate Weed Science Contest. This year's contest will be hosted by Dave Johnson, at the Penn State Southeast Agricultural Research and Extension Center near Landisville, PA. Students compete as individuals and as teams for regional awards and for fun. The contest consists of competition in four areas: 1) weed identification; 2) sprayer application technology; 3) diagnosis and identification of herbicides by symptoms; and 4) problem solving and recommendations in a field setting (role-play event). This year's contest will have some new twists that include additional problems relating to invasive and aquatic weeds, and weed management in non-cropland areas with some emphasis on weed biology and ecology. This year's team includes: Joe Dauer, Atila Deak, Brian Dillehay, Steven Mirsky, and Meredith Murray. Dr. Andy Hulting will serve as this year's coach to get the team ready for the exciting challenge.
The PSU Turfgrass Club consists of students enrolled in the B.S. Turfgrass Science Program and the Two-Year Golf Turfgrass Management Technical Program. The Club is open to students from other curriculums as well, and all are welcome to attend weekly meetings during the spring and fall semesters. Professionals from the Green Industry are invited to speak at these meetings. Faculty advisors are Carmen Magro, director of the Golf Turfgrass Management Technical Program and Max Schlossberg, assistant professor of turfgrass nutrition. The club consists of approximately 125 students and is predominantly student run. A GCSAA student chapter representative for the University is chosen from the Turf Club. In addition to the various speakers, students participate in road trips to various arenas such as a recent trip to the Altoona Curve baseball facility. Members also attend national conferences held by the GCSAA and the Sports Turf Management Association. In addition, a rival tournament between Michigan State and Penn State called the Cutter Cup, named after the device used to cut a cup in a putting green, is played each fall between members of each university's turf clubs. This event brings students and advisors together to share ideas and interests, and it proves to be a wonderful event year after year. Some of the finest golf facilities in the world cater to this event. Michigan State won the cup from us last year, but we hope to bring it home again this fall.
Symposium Notes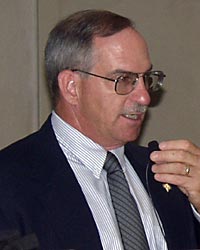 The third Alumni-Sponsored Symposium will be held September 16, 2005, at University Park. Alumni activities will begin at 11:30 with a complimentary lunch at the Agronomy Farm Pavilion, followed by tours of research activities at the Agronomy Farm and in the Agricultural Sciences and Industries (ASI) Building. The award presentation and symposium will begin at 3:30 p.m. in 101 ASI Building. This year's symposium will focus on soil quality management and no-till systems. The afternoon will conclude with a reception in the ASI Lobby. Please see enclosed flier for further details.
This year's Outstanding Alumni Award winner is Alan F. Bilzi (BS, 1974; MS, 1976), president and founder of the Environmental Venture Group, Inc., a management consulting firm. Al and his wife, Mary, established an endowment for the Alan F. Bilzi Scholarship in Environmental Science in 1997 for students majoring in soil science or agronomy.
Nominations for our 2006 Outstanding Alumni Award are due January 5, 2006. Nomination forms are available at cropsoil.psu.eduresolveuid/db47ac9ff30cca39928e55accded2226
NEWSBRIEFS
Faculty Updates
Jason Kaye joined the Department in January, 2005, as an assistant professor of soil biogeochemistry. His research focuses on feedbacks between terrestrial ecosystems and environmental change. Jason is particularly interested in the nitrogen cycle, which is greatly influenced locally and globally by land use and land management practices. He earned a B.S. in chemistry from the University of Virginia, an M.S. in forestry from Northern Arizona, and a Ph.D. in ecology from Colorado State University. Kaye can be reached at (814) 863-1614 or by e-mail jpk12@psu.edu.
Carmen Magro joined the Department in December, 2004, as instructor and turfgrass technical coordinator. He will teach and direct the golf turfgrass management technical program, coordinate field research facility maintenance and projects, and coordinate Penn State's turfgrass media relations. Before joining the University, he was a golf course superintendent at a private golf course facility in Wilmington, DE. He earned a B.S. degree in turfgrass science from Penn State and he is a certified golf course superintendent with the GCSAA. Magro can be reached at (814) 865-3007 or by e-mail cxm599@psu.edu.
Richard Stehouwer, associate professor of environmental soil science, was granted a five month leave of absence to conduct joint environmental research on trace element sources in sewage sludge compost in Graz, Austria, at the Institute for Sustainable Systems and Techniques.
Thomas Watschke, professor of turfgrass science, received the 2005 Excellence in Academic Advising Award, presented by the College of Agricultural Sciences Alumni Society, the New Jersey Turfgrass Association Distinguished Service Award, the Thirteenth Annual Eberhard R. Steiniger Award, and Award of Merit presented by the Northeastern Weed Science Society.
Daniel Knievel, associate professor of crop physiology, Barbara Pennypacker, senior research scientist and professor of agronomy, Gary Petersen, distinguished professor of soil and land resources & co-director of ORSER, and Thomas Watschke, professor of turfgrass management, retired June 30.
Marvin Hall, professor of agronomy, received the A4 Division Award for Excellence in developing educational software (Silage Preservation and Best Management Practices).
Mary Ann Bruns, assistant professor of soil microbiology, received tenure at Penn State and was promoted to associate professor.
Ann Wolf, assistant professor of agronomy, was the recipient of the Penn State Achieving Women Award.
Staff Updates
Dwight Lingenfelter, program development specialist, recipient of the 2005 Outstanding Staff Award.
William Piekielek, research support associate, retired June 30.
Robert Raley, research technologist and graduate student, recipient of the 2005 NA Colleges and Teachers of Ag (NACTA) Graduate Student Teaching Award.
Student Updates
Ranjandeep Sekhon, recipient of Penn State Mott Meritorious Graduate Student Award in Crop Science.
2005 Graduate Exhibition Award winners: Bryan Dillehay and Dilraj Sidhu, Ambika Chandra and Loren Byrne, and Chuck Walker. Gamma Sigma Delta Graduate Student Award winners: Dilraj Sidhu, Ambika Chandra, and Chuck Walker.
Daniel Smith, undergraduate in turfgrass science, recipient of the College of Agricultural Sciences Alumni Society's 2004 Internship Award.
Excellence Fund
Public support for land-grant programs is eroding at an alarming rate. To maintain the quality of our programs we depend on the support of our alumni and friends. The Department has initiated a fund to facilitate important projects that would otherwise be impossible. Examples of uses for gift monies include: helping deserving students present research results at professional meetings, facilitating development of teaching materials, and aiding graduate students in conducting research in unfunded areas by providing funding for research supplies and equipment. If you wish to donate to this cause please make your check payable to Penn State (with a notation in the memo section of the check "Crop and Soil Sciences Excellence Fund") and send to: Office of Development, College of Agricultural Sciences, The Pennsylvania State University, 233 Agricultural Administration Bldg, University Park, PA 16802, or you may donate online at: <a href=">https://secure.ddar.psu.edu/GiveTo/ All donations are tax deductible.
Thank you for your support!
Crop & Soil Update is published by the Department of Crop & Soil Sciences, The Pennsylvania State University, University Park, PA 16802, (814-865-6541)
Editorial comments and opinions expressed in Crop & Soil Update do not necessarily reflect the views of The Pennsylvania State University or the Department of Crop & Soil Sciences. Use of trade names implies no endorsement by Penn State.
DEPARTMENT HEAD: David Sylvia
EDITOR: Kathy Barr
This publication is available in alternative media on request. The Pennsylvania State University is committed to the policy that all persons shall have equal access to programs, facilities, admission, and employment without regard to personal characteristics not related to ability, performance, or qualifications as determined by University policy or by state or federal authorities. It is the policy of the university to maintain an academic and work environment free of discrimination, including harassment. The Pennsylvania State University prohibits discrimination and harassment against any person because of age, ancestry, color, disability or handicap, national origin, race, religious creed, sex, sexual orientation, or veteran status. Discrimination or harassment against faculty, staff, or students will not be tolerated at The Pennsylvania State University. Direct all inquiries regarding the nondiscrimination policy to the Affirmative Action Director, The Pennsylvania State University, 328 Boucke Bldg, University Park, PA 16802-5901, Tel 814-865-4700/V, 814-863-1550/TTY.
U.Ed. AGR006-06