Crop and Soil Update 2004

Message from David Sylvia, Professor and Head
We are all deeply saddened by the recent deaths of our friends and colleagues, Dr. Les Lanyon and Dr. George Hamilton, Jr. These losses leave a big hole in the heart of the Department. Les was a lover of books and a rare philosophical voice among agronomists. George was always upbeat and dedicated to students and the turfgrass industry. Both will be greatly missed. I believe both would want us to go forward with renewed commitment to promoting sustainable approaches to real world problems. And, indeed, the Department has many reasons to celebrate success, as a reading of this newsletter will reveal. Several highlights include:
New faculty hire - Dr. Jason Kaye, assistant professor at Arizona State University, recently accepted our offer to join the faculty to conduct research on multi-media nitrogen flows in intensively managed rural landscape systems common to the northeastern US. He will teach undergraduate and graduate courses in the area of biogeochemical dynamics of critical nutrients.
New entry-level courses - We are now attracting many students from nontraditional backgrounds. To bring them up-to-speed in the soil science subdisciplines, we will offer an advance survey course entitled "Soil Properties and Functions." We also continue to look for ways to promote our programs to incoming students and, to this end, we will be offering a first-year seminar (Ag 150) with an environmental emphasis that will allow faculty to "strut their stuff" before these students.
Significant achievements -- The efforts of our faculty, staff, and students continue to be recognized in local, regional, national, and international arenas. In addition, faculty continue to compete effectively for a wide array of grants that provide the Department a stable funding portfolio. During 2003, Crop and Soil Sciences faculty were principle or co-principle investigators on more than $4 million of grant awards.
Graduate student enrollments -- Nearly 60 graduate students are currently advised or co-advised by our faculty. Approximately two-thirds are seeking advanced degrees in Agronomy or Soil Science, while the remaining third are matriculated in one of five Intercollege Graduate Degree Programs on which our faculty serve.
Strong support of alumni -- I am encouraged by the continued support of alumni for our programs because they have great potential to promote the Department and to improve networking opportunities for our students. In September we will hold our alumni-sponsored symposium. Furthermore, several alumni are committed to our mentoring program and will be working on ways to make this program more effective.
Stakeholder sessions -- We are embarking on a strategic planning process. To this end, we are hosting workshops with key individuals to gain their insights as we plan for our future. I am grateful for the willingness of our stakeholders to provide this valuable service. If you have thoughts or comments as we look to the future, please contact me. I am always ready to talk Penn State!
HIGHLIGHTS
Research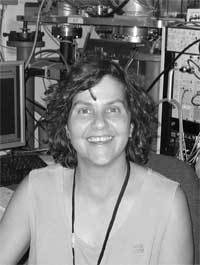 The biological availability, mobility, and potential toxicity of trace and major elements depend on their partitioning between the solid and solution phase of soils. But that is only the tip of the iceberg. The type of chemical bond these elements form with soil solids as well as the type of ligands they combine with in the solution phase are, to a great extent, what determine whether there is enough of the nutrient or too much of the contaminant. The Soil and Environmental Chemistry Laboratory, led by Carmen Enid Martínez, takes both chemical and biological (thus biogeochemical) processes into consideration. Currently, research efforts are twofold. First, they study the link between the chemical form of metals (particularly Zn and Cd) and sulfur, and the microbial populations involved in sulfur cycling. Among the relationships investigated are the spatial distribution, identity, and co-location of microbes and minerals/elements in soil particles. The research effort focuses on the determination of the relative importance of mineral and organic components of soils in determining metal solubility and speciation and on how metal-complexing ligands affect the partitioning of trace elements. They expect to find a link between solid phase species, solid-ligand interactions, and the resulting solubility. They are also developing a third research effort that focuses on elemental transport (mobility) in soils. Investigations will include studies on the formation and dissolution of colloidal forms of Si and Fe and how the mobility of these colloids may affect the mobility of trace elements (Cd, Cr, Cu, Ni, Pb, Zn) via colloid-facilitated transport.
In summary, the goal of the research program is to provide a fundamental understanding of the chemical and biogeochemical processes controlling the cycling of elements in the environment. As of the Fall of 2004, the group includes three Ph.D. students and a post-doctoral associate; in addition, three short-term researchers (a post-doc and two undergraduate students) have contributed to their efforts. The research is funded by the College of Agricultural Sciences, the Department of Crop and Soil Sciences, the USDA-NRI, and the NSF-Biogeosciences Program. For additional information, please contact: Dr. Carmen Enid Martínez at 814-863-5394 or e-mail cem17@psu.edu.
Teaching
Producer Speaker Series - Over the past four years, undergraduate and graduate students, faculty, and staff in the agricultural sciences have been learning how farmers manage and make decisions from a whole farm perspective, directly from Pennsylvania farmers. With funding from the College of Agricultural Sciences Cooperative Extension, Resident Education, and the Graduate School, Dr. Heather Karsten initiated the Producer Speaker Series. Farmers share their real world and whole farm management perspectives through personnel stories of successes, failures, farming philosophies, and photographic slides. They explain how they adapt and integrate principles and practices of soil science, crop and weed science, entomology, plant pathology, farm business management and marketing to the climatic and geographic conditions on their farms. The audience also learns how economic, social, and environmental factors have influenced their decisions. The speaker series has been very well received and continues this fall. If you are willing to participate or can recommend a Pennsylvania producer to participate in this educational program, please contact: Dr. Heather Karsten (hdk3@psu.edu; 814-863-3179).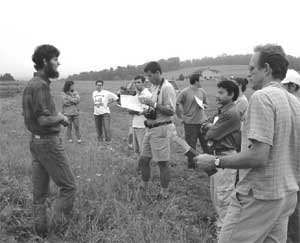 On-Farm Internship - To further enhance whole farm education, an interdisciplinary faculty team from Crop and Soil Sciences, Entomology, Horticulture, and Agriculture Education and Extension obtained funding for an On-Farm Internship from the USDA for the summers of 2003 and 2004. In 2003, six undergraduates took part in an On-farm Internship on Pennsylvania farms. The project Web site, http://paonfarminterns.cas.psu.edu, features students' experiential essays, whole farm case studies, and on-farm research projects. These materials illustrate how students gained an in-depth understanding of farming. Faculty and student evaluations of the internship program were enthusiastic, and technical questionnaires that the students completed before and after the internship indicated that significant learning occurred. Six additional students are working on four Pennsylvania farms during summer 2004. Funds are also being sought to establish an annual Penn State On-Farm Internship Fellowship. If this is an educational experience that you or your employer values for undergraduates, please visit our website and contact Dr. Heather Karsten (hdk3@psu.edu; 814-863-3179) to learn how you can contribute to this valuable educational opportunity.
Extension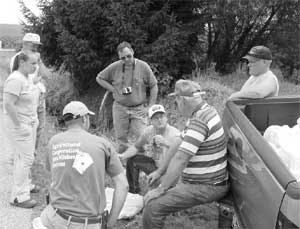 The On-Farm Research program for the College continues to be coordinated by Ron Hoover, whose position is located in the Department of Crop and Soil Sciences. The program continues to grow, as measured by the number of producers and county extension educators involved. During 2004, trials were initiated in over 20 counties in all regions of the Commonwealth. Ron is directly involved in many of the studies, but an increasing number are mostly or entirely overseen by county extension personnel. Research and extension specialists are also involved in the projects, and their participation is often wide-ranging. Some of the practices and products being investigated during 2004 are focused around corn production, integrated pest management (weeds and insects), reduced tillage practices, perennial forage production (within hay and pasture production settings), and cover cropping practices. The primary goal of this on-farm research program is to develop and conduct projects that generate information useful in answering questions of importance to producers. Because environmental conditions (soil and weather patterns), management and other factors vary between regions, and often between farms, the data collected are "customized" to those local conditions. The treatments being tested often are not new, but they may be undervalued and underutilized. Local testing to demonstrate the benefits from such practices or products can increase the visibility and acceptance by producers. The development of the program's website is nearly complete and users will soon find research results at www.onfarm.psu.edu/.
Student Profiles
Agronomy graduate student Atila Deak characterizes the Crop and Soil Sciences Department as a small and friendly atmosphere, which facilitates close contact with professors, staff, and fellow graduate students. The Department has provided him with the opportunity to increase his experience in field research. It has also enabled him to meet people from different countries and get to know other cultures. Most importantly, during his graduate studies, Atila was able to attend professional conferences and seminars through which he achieved a better understanding of agriculture's present and possible future from a developed country's perspective. The international experience along with both the research and agricultural perspective has had a positive impact on Atila's professional development.
Undergraduate student Michael Kochuba chose to enroll as an Environmental Soil Science major because he loves the outdoors and enjoys studying about science. He also likes the smaller class sizes and the many scholarships that the major has to offer. During Michael's four years at Penn State he got to know and become good friends with everyone in the major. With such a small undergraduate class, most students had their classes together and they were able to help each other when needed. Michael attributes some of his best experiences to being on the Soil Judging Team. As a member for three years, he attended competitions in three different states. These competitions were great learning experiences and were some of the best times that he had at Penn State. He enjoyed meeting many students from all around the country. Much of what Michael learned in the major came from hands-on experiences, whether it was from soil judging or the many field trips he experienced. Michael's plan for the immediate future is to stay at Penn State and obtain a teaching certification for high school sciences.
ACTIVITIES
Club Activities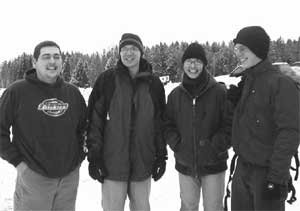 The Agronomy Club has been very active over the past year. Throughout Fall Semester 2003, the club members continued the tradition of selling birdseed and blue & white corn at the Ag Alumni Tailgate during the final home football game. The club sponsored a pig roast in December with the help of chef Atila Deak, graduate student in Agronomy. Approximately 55 people attended.
Since the Agronomy Club is the student activities organization of the American Society of Agronomy, it seemed fitting that the club members attend a regional meeting of the student organization. In March, five student club members traveled to Michigan State University for the North Central Regional Students of Agronomy, Soils, and Environmental Sciences (SASES) meetings. The meeting was a great experience and the club is considering a similar trip next year.
In conjunction with business meetings, the club has been participating in weekly activities such as bowling, hiking, listening to guest lecturers, and of course, eating. The students and advisors are looking forward to fall semester and all of the opportunities afforded by being an active organization at Penn State.
The Turfgrass Club has elevated its membership from 65 to 80 active members from both the two- and four-year turfgrass academic programs. Some of the things that made this year so successful include meetings consisting of guest speakers, hands-on reel-grinding experience, and social activities. The Club welcomes and encourages anyone interested in being a guest speaker to contact Sue Eisenhauer at 814-865-6541 or e-mail sed1@psu.edu.
The 2003 Cutter Cup match went to the "home" team from Penn State in matches hosted by superintendent Alan Easter at Totteridge Golf Club in Greensburg, PA, on October 13, 2003. The course was in excellent condition, as well as challenging and demanding. Penn State took the cup with a three to two point margin. The win marked the sixth consecutive year Penn State has held the Cutter Cup.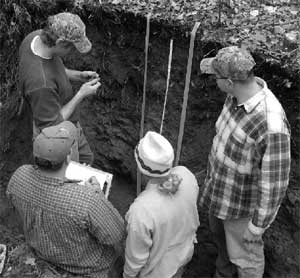 The Penn State Soil Judging Team participated in the Northeast Regional Collegiate Soil Judging Contest this past fall, hosted by the University of Rhode Island. The trip gave valuable hands on experience studying the distinctive properties of glacial, loess (wind blown silts), and lacustrine (lake bed sediments) deposits. The team placed fourth, just one spot shy of qualifying for the national contest. The students enjoyed the interactions they had with professionals from NRCS and other universities, and the fun they had meeting students from across the Northeast. The team looks forward to this fall's competition led by new instructor and coach Mary Kay Krasinski, a past member of the team and a recent PSU graduate.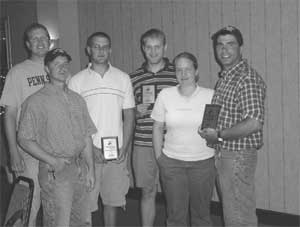 The Penn State Weed Science Team is already preparing to improve upon last year's great finish. The graduate team of Bryan Dillehay, Joe Dauer, and Shaun Heinbaugh placed third at the 2003 Northeastern Weed Science Society - Collegiate Weed Science Contest in New York. This year's contest was held at North Carolina State University in Raleigh. Team members included Bryan Dillehay, Steven Mirsky, and Nora Peskin. Team coaches were Dwight Lingenfelter and Andrew Hulting. The competition tests participant's skills in weed ID, herbicide symptomology, field problem-solving, and application technology. The experience is challenging, educational, and enjoyable. Students had the opportunity to tour the facilities of a major biotech company. Those involved got a chance to see different agricultural systems and develop camaraderie with other students and professionals with related interests.
Symposium Notes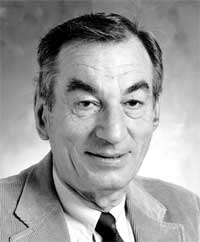 The second Alumni-Sponsored Symposium will be held September 10, 2004, at 3:30 p.m., at University Park. This year's symposium will focus on the topic of Agricultural Biotechnology: The Turfgrass Connection. Albert Kausch, Director of Research, HybriGene, Inc., will be the key speaker. The afternoon will conclude with the presentation of awards and a reception.
This year's Outstanding Alumni Award winner is Joseph M. Duich (BS, 1952; PhD, 1957), professor emeritus, with a long and outstanding career in turfgrass education and breeding.
NEWSBRIEFS
Faculty Updates
Sridhar Komarneni, professor of clay mineralogy, received the Bhagat Memorial Award at a joint meeting of the Indian Ceramic Society and International Ceramic Congress.
Heather Karsten, assistant professor of crop production/ecology, and Andy McNitt, assistant professor of soil science, received the Community of Teaching Excellence Award. Heather Karsten has been promoted to associate professor.
David Mortensen, professor of weed ecology, was appointed program chair for two national integrated pest management competitive grant programs run by the U.S. Department of Agriculture and has been promoted to professor.
Marvin Hall, professor of agronomy, was granted a leave of absence to discuss and exchange instructional materials with colleagues at institutions within the Committee on Institutional Cooperation and other peer institutions with a goal of improving the course quality and instruction of AGRO 423, Forage Crops Management.
David Sylvia, professor of soil microbiology, was elected to the rank of Fellow in the American Association for the Advancement of Science (AAAS).
Ann Wolf, assistant professor of agronomy, received the NEBASA Extension-Industry Award.
Charles R. Krueger, professor of agronomy, will retire September 30, 2004.
Les Lanyon, professor of soil science and management, passed away unexpectedly on May 26, 2004, at age 55. He began his career in the Department in October 1977.
George Hamilton, assistant professor of turfgrass science, passed away on July 9, 2004, at age 43, after a year-long battle with cancer. He began his career in the Department in July 1983.
Joseph McGahen, professor of agronomy, from July 1967 until he retired as professor emeritus in 1988, died February 2, 2004, at the age of 79.
Staff Updates
Kathy Barr, administrative assistant, recipient of the first departmental outstanding staff award.
Corey Dillon promoted to assistant unit manager (farm supervisor), May 1, 2004.
James Everhart, agronomy farm group leader, retired December 2003.
Hal Needham, extension assistant, and Aaron Lathrop, research support technician, terminated employment and left the area.
Student Updates
Keisha Johnson, soil science program (mentored by D.B. Beegle), was a first place award recipient at PSUs 19th Annual Graduate Exhibition and a third place winner of the 2004 College of Agricultural Sciences Research Exhibition sponsored by the College of Agricultural Sciences and Gamma Sigma Delta for the Graduate Division in Environmental and Natural Resources Sciences.
Atila Deak, agronomy program (mentored by M.H. Hall), participated in two oral presentation competitions. He was a second place award recipient of the "Emerging Scientist Competition" at the American Forage and Grassland Council (AFGC) annual meeting in Roanoke, Virginia, and a first place award recipient of the "Graduate Student Presentation Competition" at the NEBASA meeting.
Loren Byrne, ecology program (mentored by M.A. Bruns), was a first place award recipient at PSUs 19th Annual Graduate Exhibition. He was awarded the NASA Space Grant Consortium Fellowship for the 2003-04 and 2004-05 academic years.
Hugo Castillo, ecology program (mentored by M.A. Bruns), received a grant to attend the Pan-American Advanced Studies Institutes Workshop on Techniques for Biofilm Community analysis in Chile.
Erik J. MacPherson, June graduate of the Golf Course Turfgrass Management Program, received the Zimmerman Award, sponsored by LESCO.
Mike Kochuba, environmental soil science major, received the NEBASA undergraduate student award.
Excellence Fund
Public support for land-grant programs is eroding at an alarming rate. To maintain the quality of our programs we depend on the support of our alumni and friends. The Department has initiated a fund to facilitate important projects that would otherwise be impossible. Examples of uses for gift monies include: helping deserving students present research results at professional meetings, facilitating development of teaching materials, and aiding graduate students in conducting research in unfunded areas by providing funding for research supplies and equipment. If you wish to donate to this cause please make your check payable to Penn State (with a notation in the memo section of the check "Crop and Soil Sciences Excellence Fund") and send to: Office of Development, College of Agricultural Sciences, The Pennsylvania State University, 233 Agricultural Administration Bldg, University Park, PA 16802, or you may donate online at: https://secure.ddar.psu.edu/GiveTo/ All donations are tax deductible.
Thank you for your support!
Crop & Soil Update is published by the Department of Crop & Soil Sciences, The Pennsylvania State University, University Park, PA 16802, (814-865-6541)
Editorial comments and opinions expressed in Crop & Soil Update do not necessarily reflect the views of The Pennsylvania State University or the Department of Crop & Soil Sciences. Use of trade names implies no endorsement by Penn State.
DEPARTMENT HEAD: David Sylvia
EDITOR: Kathy Barr
This publication is available in alternative media on request. The Pennsylvania State University is committed to the policy that all persons shall have equal access to programs, facilities, admission, and employment without regard to personal characteristics not related to ability, performance, or qualifications as determined by University policy or by state or federal authorities. It is the policy of the university to maintain an academic and work environment free of discrimination, including harassment. The Pennsylvania State University prohibits discrimination and harassment against any person because of age, ancestry, color, disability or handicap, national origin, race, religious creed, sex, sexual orientation, or veteran status. Discrimination or harassment against faculty, staff, or students will not be tolerated at The Pennsylvania State University. Direct all inquiries regarding the nondiscrimination policy to the Affirmative Action Director, The Pennsylvania State University, 328 Boucke Bldg, University Park, PA 16802-5901, Tel 814-865-4700/V, 814-863-1550/TTY.
U.Ed. AGR0527