Outreach activities as a result of this project.
Dave Mortensen holding a workshop for practitioners at the Annual Maintenance Workshop of the Center for Dirt and Gravel Road Studies.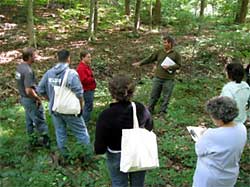 Emily Rauschert and Bill Curran discussing a weed management scenario with participants at the Northeastern Weed Science Society Noxious and Invasive Vegetation Management Shortcourse.